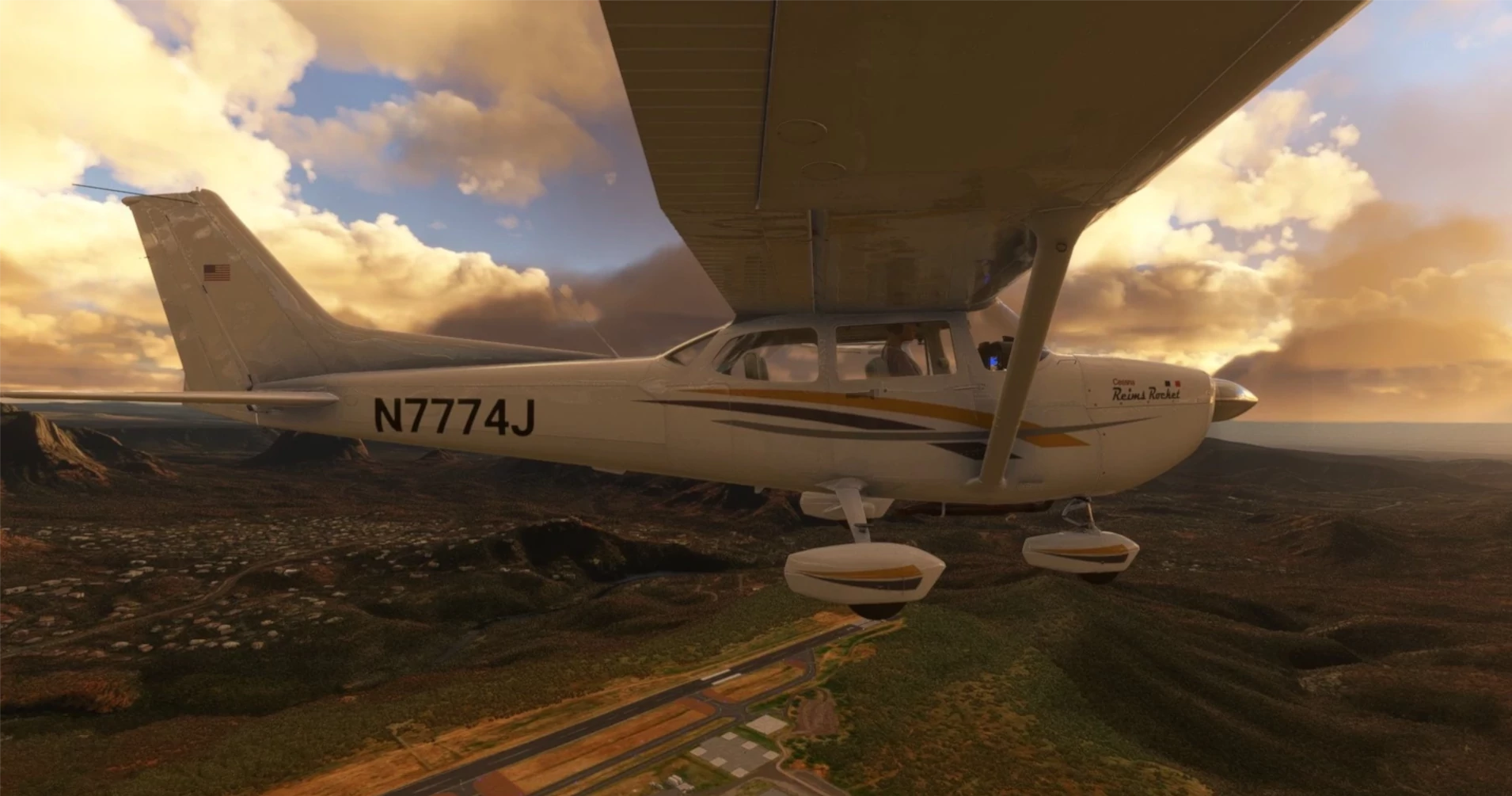 FR172 Reims Rocket / Cessna R172 Hawk XP II
Mod release date : 2022-09-10
Mod last update : 2023-12-03
Mod current version : v3.1.0
Download links
Support
Contact me if you need help :
Contact information
Mod information, how to install...
See more information and installation notes on
FR172 Reims Rocket / Cessna R172 Hawk XP II mod page
Changelog
🚧 New release : v3.1.0
Anniversary update : this plane mod is one year old !
Fix:
attitude indicator animations & positions
stby batt removed (not present in Reims Rocket ref. manual)
decal material correction
ingame documentation corrected
compass and altimeter swaped (common request)
ELT code removed
cowling covers
New features:
Book rework (following AS1000 patch)
Skydiving kit upgraded : Jump seat and carpet added
WTT compat mod for gtn750 thanks to Alvega
New NAV1/GPS switch
New EGT gauge (right panel)
New OAT gauge (next to top right sun visor)
🚧 New release : v3.0.0
When we started this mod, I only had a C172 G1000 interior 3D model from my other mods. We knew it wasn't realistic, but we decided to start the Reims Rocket / Hawk XPII mod this way anyway.
After a few versions finalizing the two variants we wanted, I finally settled on the cockpit design as it may have existed on early versions of the Reims Rocket. This new release replaces the G1000 cockpit with an all-gauge cockpit.
We hope you'll enjoy flying it!
Stay tuned as we still have a modifications to make to this mod !
🚧 New release : v2.1.0
Fix :
One panel was refering to the AS1000 patch
New features backported from C172 enhancement project :
you can now use Cold&Dark on ground (not only on parking spot)
Microphone show/hide
Glove box can be opened
exit_open handled to hear external noises when doors/windows are opened (thanks to Martin and Boris Audio Works)
Cargo textures rework
Happy flying !
🚧 New release : v2.0.2
Fix :
Checklist content correctly displayed
Happy flying !
🚧 New release : v2.0.0
We're happy to introduce a new Reims Rocket / Hawk XP II variant : the 195HP, 2 blade prop.
Specific 3D model propeller
Flight model adapted to the 195HP engine
12 new liveries
Same G1000 cockpit setup (for the moment)
New features :
New liveries for the 210HP, 3blade prop variant
New door sounds thanks to Boris
Postit on the panel notifying of available plane updates. Click it to hide it.
New features backported from C172 enhancement project :
Don't touch copilot and passenger for cold&dark
Sync to c172-enhancement mod :

tablet upgrade (GTN750, S4S…)
Sky4sim OS support
Fixes :
Chrome door handles on all liveries
Landing & taxi lights inversion
Aileron wire fix
B78xh mod bug workaround
POH rework with new data from cessna2807
Various stuff in cockpit visible in hangar
Fix to try to avoid starting issues (blank panels)
Separated textures for cargo logos (asked by Petroxyl)
Corrected unwrapping on tablet for better customisation (asked by Petroxyl)
Luggage visibility fix
Many thanks to Ann0v & whiskytango208 for the liveries they gave to us : HB-COV, N1951S
We are working on a simple gauges version. It will take time to be ready, but work has begun !
Happy flying !
🚧 New release : v1.2.0
New features :
Roof windows (optional, available in the book)
Taxi & landing lights have been move on the lower part of the nose (custom liveries may require cleanup on the wings)
Cowl flaps with the lever on the central console
Rudder trim lever on the central console
New features backported from C172 enhancement project :
New option to hide the manual logo on the panel
Cargo unloading : option available from the cargo page of the book
A new tablet, stowed in the copilot lower right compartment. It can be brought up by clicking on the right edge of the panel too. It is used to display external apps like :
Sky4Sim (including Neofly4)
Neofly 3
MS MCA
VFRmaps You can find the referenced app links on this project page.
We are still working on the 2 blade prop variant. Sounds improvement have also progressed a lot !
Happy flying !
🚧 New release : v1.1.2
Christmas update !
Fixes :
No more VR obstacle in front of the player (hopefully… I can't test)
ATC-ID not overriden in liveries anymore
Yoke logos up to date
New features backported from C172 enhancement project :
cargo configurations : see the new page in the book
maps : Bring the cardboard on the yoke from the lower center console by clicking on it and choose one of the few available VFR map websites.
Currently, we have maps for CH, FR, UK, US and a simple worldwide OSM. I haven't found a lot of ready to use websites. Skyvector would have been cool, but they forbid iframes and openflightmap only provides raw data.
If you have website suggestions to add to the list, I'm all ears !
🚧 New release : v1.1.1
Previous version 1.1.0 had missing texture files causing problems with some liveries. This is a quick fix to that problem.
Fixes :
Missing texture files (because of a new compiler behavior)
Corrected tail on D-ECJG
Happy flying !
🚧 New release : v1.1.0
New features :
Alternative wheel fairings : older style that were usual on theses planes (they're ON by default, you switch to recent ones in the book)
Last features from the Cessna 172SP Skyhawk AS1000 improvement mod :
ingame manual for the mod (click spot on the panel)
state saving (new option in the book, cold start trigger)
visible passengers (you need to check the option in the book and give weight in MSFS fuel & balance options)
Fixes :
Engine modes : closer to POH
RPM max on ground (2800)
you can get 500fpm climb with 2500RPM, 25MP
cruise at 2400RPM, 24MP gives ~120knts
UVMaps fixes
Wing texture fix (thanks to SebStep91)
No break modification : it is still on the default value from 172SP. With the engine modification I don't find it under powered. Tell me what you think about it
In incoming updates :
Sounds : We are still working on appropriate engine music
The 2 blade variant with 195HP engine
Cowl flaps and rudder trim control are still missing in the cockpit
We hope you'll like this one
Happy flying