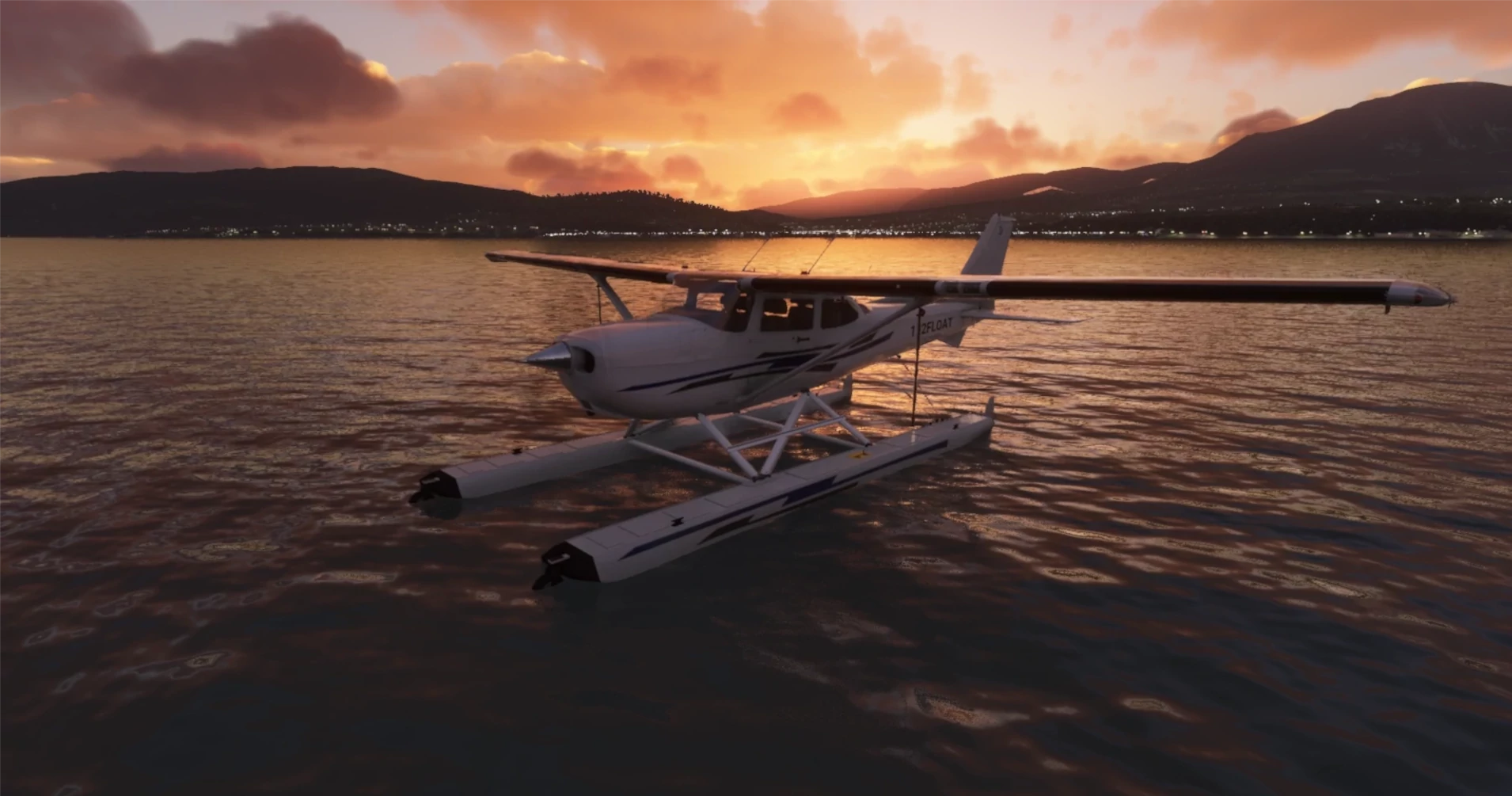 Cessna 172 Amphibian
Mod release date : 2021-06-05
Mod last update : 2022-09-30
Mod current version : v1.5.0
Download links
Current version : v1.5.0 (2022-09-30)
Current files :
Support
Contact me if you need help :
Contact information
Mod information, how to install...
See more information and installation notes on
Cessna 172 Amphibian mod page
Changelog
🚧 New release : v1.5.0
Fix:
use new WT1000 NXI system (SU10 update required)
🚧 New release : v1.4.2
Fix:
differential braking, thanks to RALF9636
New: two new liveries given by Ann0v :
I-GNHR livery
I-GDRX livery
🚧 New release : v1.4.1
Fixed the discharging battery problem Installed a new three blade propeller
Happy bushin' !
🚧 New release : v1.4.0
New features :
Use of Asobo's C172 interiors models in both G1000 and classic models :
Landing gear lever and indicator
water rudder lever
Fixes :
Fixed the blank transponder in classic model
Use of the Asobo's flight model on water
I have not started the flight model tuning update yet. I'll do it as soon as I can !
Asobo has not replied to my access request to the missing (encrypted) files. I hope they'll do.
Known bugs :
if the classic 172 Textron has the fuel valve locked on the left tank, you will have the same problem in this plane with the classic version.
I hope you'll enjoy this new version, happy flying !
🚧 New release : v1.3.0
Bug fixes and new features :
water sounds on water
new landing effects (dirt, snow, grass, water…) thanks to Carbonprop
Flight dynamics landing on water is now less clunky
wendy texture rework thanks to AIRPAC1
prop side bug with taxi lights corrected thanks to PopS738
pilots and interior do not disappear out of the plane anymore
There is still work to do on this model, especialy with the flight model that is still overpowered.
I have asked Asobo the access to the missing (encrypted) files of the classic version in order to have a fully working cockpit. I hope they'll grant it to modders
🚧 New release : v1.2.1
Minor update
fixed the sportsman texture
fixed a livery glitch under the wings
🚧 New release : v1.2.0
Fuel flow regression fixed
Gear indicator on the right side too
Floats position in water corrected
Rivets texture (on the plane) fixed
Thanks a lot to Airmoose1 for all the usefull feedbacks from a real seaplane pilot !
🚧 New release : v1.1.0
Thanks for all your feedbacks on the initial release of the plane. I know there's a lot of work to do. Here's a first update :
Blurred prop fixed
floats were sitting too deep in the water
fixed rivets texture on wendy livery
new sounds for water rudders extend/retract
new sounds for gear extend/retract
water rudders extend/retract time changed (simulate manual lever)
Useless files cleanup in the packages
Use of modern_fm_only=1
Quick fix on the fact that the plane is really too powerfull (it will require hard work)
Happy flying & swiming